Arya and Lincoln-F1B mini Goldendoodles
Arya and Lincoln have a brand new litter of 5 puppies, born on April 6, 2021.   There are 4 girls and 1 boy.  I expect these puppies to be between 20-30 lbs.  They should have big curls/waves in their hair similar to an F1 Goldendoodle since Arya is a flat coated girl.  All of her puppies are reserved for people already on our waiting list, except for Calliope.
4 weeks
This light apricot female is bigger than everyone else and very fuzzy!  She has white on her chest, nose and toes like mommy.  She is reserved for Sheila R and will be called Ginger.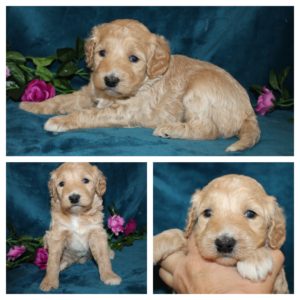 Another light apricot girl is much more petite and has very little white markings.  Her face reminds me of Arya.  She is reserved for Carolin and will be called Luna.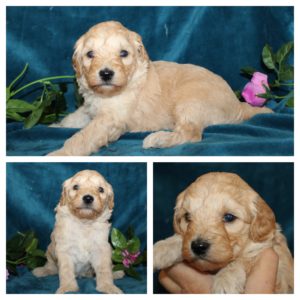 Ariel is the dark red girl and she is very curly and loves people already.  She is reserved for Aladdin and his family.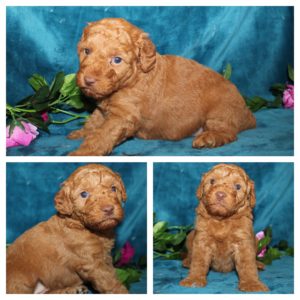 Calliope is the little parti girl who is the smallest pup in the litter and we had considered keeping her, but we found a tiny umbilical hernia and cannot breed her.  So, she is available.  $3300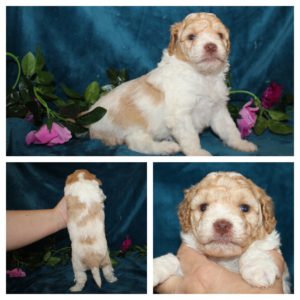 The little red boy has beautiful markings on his chest and is very sweet.  He is reserved for Caleb and Susannah and they have named him Obi.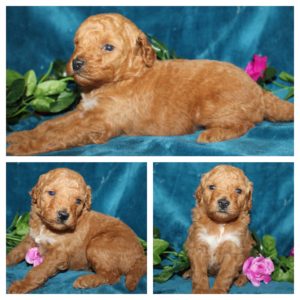 The puppies as newborns

The parents:  Arya and Lincoln