11-3-23  All of our older bernedoodles have had their prices reduced to $1600.  They are beautiful, loving pups and are just perfect.
10-31-232  New photos of Snickers pups are up and photos of Rosie's available boys, Daisy and Nala's pups are coming. 

10-11-23  We have lowered Bailey's puppies' prices down to $1600 to make room for others.   We are still open for puppy playtime if anyone wants to play.  Still looking for a home for Heart.  She is a cute, scruffy little Bernedoodle girl.  She is very loving with people and other dogs.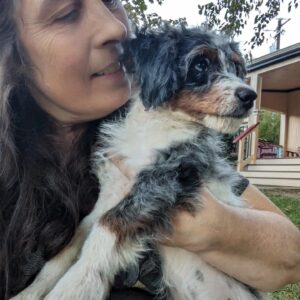 9-27-23  I am working hard each day to get cute updated photos and videos of our pups.  The videos are usually posted on Facebook and Instagram.  Cleo has a few boys who are available at $1600.  Bailey's girls and boys are $2000.  Lucy's 6 bernedoodle puppies are almost 6 weeks and 6 1/2 weeks old.  I should have all their new photos up be the end of today.  Artemis's 6 bernedoodle pups are very friendly and 5 1/2 weeks old.  They are super cute and LOVE visits.  Rosie's 6 mini goldendoodles are 2 1/2 weeks old and almost ready to leave the whelping box.  Snickers' 10 mini bernedoodles are 1 week old and growing well.  Nala's 3 micro mini goldendoodles are also 1 week old and looking beautiful.  Daisy's 8 mini goldendoodle pups are 1 week old and growing well at Frankie's house.  They will stay with her till they are about 7 weeks old when they will move in with us.   
We have had several people and families come over to play with and cuddle our puppies recently.  We love having people come over to play with our pups, so if you are interested, let us know by email.  It's good for the puppies and its great for the visitors!
9-8-23  Cleo's pups are 8 weeks old tomorrow.  To make room for the litters coming in a week and a half, we are reducing prices on Shasta's mini bernedoodles and Cleo's medium goldendoodles.  We are also offering an additional 10% discount for families of first responders as well.
8-29-23  We have lots of cute pups and their mothers ready to go home.  
Gracie is going to her new guardian home this week.  It has been a lot of fun having her around.  Dakota is going to Riverside to begin work with our daughter as her service dog.  Arya is going back to her guardian home with our older daughter in Riverside and Cleo will soon be leaving to go back to her guardians in Folsom. 
Caleia and Pippin have been spayed/neutered and are waiting for the perfect families to come along and take them home as new family members.  They are both sweet dogs and produced cute puppies, but deserved homes of their own.  
8-21-23 We have a few pups ready to go home this weekend.  Shasta and Arya's pups are having their vet checks today and tomorrow and then they will be heading home.  There are several pups available from each litter as well as little Amos, who is 10 weeks old and the sweetest puppy imaginable.  He does well with potty training and accepts his crate.  He's a beautiful boy and ready for someone special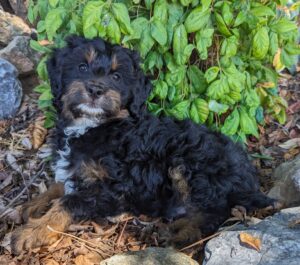 8-7-23  We are beginning selection visits for Arya and Shasta's litters.  Cleo's litter will be next.  She has 12 medium goldendoodle pups and her sister, Bailey, has 10! 
Pudding has been brought back to us through no fault of her own and is looking for a family who can give her lots of love and attention.  Having another dog to play with is a bonus as well!  She is crate trained and working on potty training.  She comes with lots of fun toys, bedding and other goodies.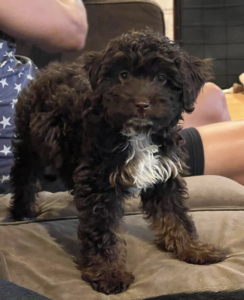 7-10-23  We are looking for 3 guardian homes in the next few girls for the next generation of Quartz Mountain mommas.  Guardian dogs are freely provided and live with families as pets.  We will be adding a mini aussiedoodle, standard goldendoodle and standard bernedoodle soon.  If interested, check out the guardian page for more information and then give us a call or email.  The first step in the process is to review our contract and then have us visit your home to make sure it is puppy safe.  After the dog retires, the guardian gets to keep the dog for free.    We will also be retiring Bailey, Lucy Lou and Caleia soon.
7-5-23  Caleia's puppies have had their vet appointment and are all healthy.  Zoey's 5 babies are getting photographed today and will be online in a day or so.  Arya has 6 new pups as of July 2 and Shasta had 9 new babies on July 1.  Pictures coming in the next day or two.  Rosie has been bred with Tucker.  BB will be bred in a little over a week.  Cleo is due with a litter of medium goldendoodles on the 15th and we have 2 others who have been bred, but haven't had pregnancies confirmed.  Those are Bailey and Lincoln, and Artemis and Rodeo.
5-22-23  Caleia and Pippin have given us a gorgeous litter of 5 precious babies.  There are photos on their litter page.  They are amazing! 
Update:  Fantasia has been adopted!
  She is going to be about 25 lbs as an adult and is a mini f1b bernedoodle.  She is doing well with her crate and potty training and is a sweet little girl.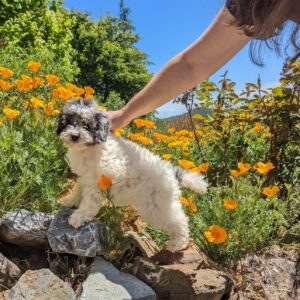 4-28-23    Caleia and Pippin are expecting a litter of mini aussiedoodles near the end of May.  They are going to be gorgeous and be anywhere from 15-25 lbs.
2-28-23   We have a little mini goldendoodle, Posey, who has been brought back to us since her owner could no longer keep her.  She is a fun loving girl who would do great in a family or with another dog.  She will be about 25 lbs as an adult.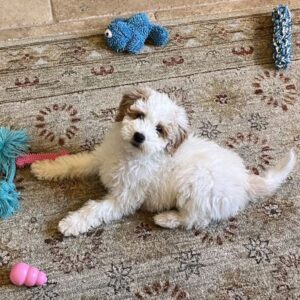 Selections for Snickers' puppies begins on the 6th and there will be a few still available to new people.  They are getting active and love their canned puppy food.  They are super friendly and people oriented.     Rosie is due with a litter of mini F1 goldendoodle puppies in a week and a half.  Artemis had two positive pregnancy tests, but does not appear pregnant to me.  We will know in a week for sure!
2-7-23  Neither BB nor Nugget became pregnant from their December breedings.  We will try again when they go into heat again near June.
Lucy had a litter of 2 girls and 1 boy and Snickers has given birth to 8 pups.  We performed blood tests on Artemis and Rosie and Rosie's showed a faint positive result.  We will retest in a week or so to confirm. 
All of Arya's pups have been reserved and most have gone to their new homes. 
We have 3 mini bernedoodle pups available and ready to go to their new homes.  They are pictured on Shasta and Pippin's page.
Cleo's pups will be going to their new homes next week.  There are still a few of them available, but I am not sure which ones because selections wrap up on Saturday.
1-15-23   Zoeys pups start going home this week.  There are 2 merle boys and 1 black girl available.  Arya and Shasta's puppies begin the selection process this week and I have open spots for a few puppies from each litter.  Cleo's pups are 4 weeks old and we will be setting appointments for selections soon.
12-15-22  We have new photos of Zoey's pups and hope to have some of Arya and Shasta's soon as well.  Cleo is due on Monday with what looks like a big litter.  Every time Tom looks at her, he adds 2 more puppies to his estimate! 
We have also bred Nugget to Tucker for micro mini goldendoodles, Snickers to Pippin for mini bernedoodles, our new girl, Lucy Lou to an outside stud, Boaz, for tri and merle mini bernedoodles and BB to Tucker for mini goldendoodles in black and red.
11-6-22  We had a busy weekend.  Avon, now Ash, is our first dog going to Hearts 4 Heros USA, a non profit organization who desires to place therapy dogs in fire houses to support our firefighters mental health and wellness.  http://www.Hearts4heroesusa.org/ 
We had 1 other Bernedoodle girl go home; Aspen, who is now known as Darby.  2 of our mini goldendoodles also went to new homes.  We have 1 Standard Bernedoodle and 1 Mini Goldendoodle available.  Both are loving beautiful babies. 
Our babies have been enjoying daily walks around our property, chasing pinecones and learning how to "sit".  We will be having Mini Aussiedoodles near Thanksgiving with Zoey, Mini Goldendoodles with Arya, Medium Goldendoodle with Cleo and Mini Bernedoodles with Shasta in December.
11-2-22  We still have 3 F1 mini
Goldendoodle puppies and 3 F1B Bernedoodle puppies available who are all very sweet and 10 weeks old. 
9-13-22  We are beginning selections for Bailey and Lincoln's litter of 9 medium sized goldendoodles.  There are new photos of Daisy's puppies on her page and we are working on new, individual photos of each puppy this week from all 4 litters.   We are waiting for Zoey, Snickers, Shasta and Arya to go into heat any day now.
8-22-22  We had a very busy week!  On Wednesday, Daisy gave birth to her first litter, consisting of 3 boys and 3 girls.  They are being raised in my guardian dog owner's house.  On Friday, Rosie gave us 8 F1 mini goldendoodle pups and on Saturday, Artemis brought 11 standard Bernedoodles into the world.  Pictures will be coming soon.
8-18-22  We have one of BB's mini F1B goldendoodle puppies available and that is Frank.  He is a beautiful boy who loves to play and explore.  We also have 9 medium F1B goldendoodle pups with Bailey who are 3 weeks old and a brand new litter of mini F1B pups with Daisy.  Check out their pages.
7-10-22  There is one puppy from Arya's litter and one from Cleo's litter who will be available.  Balto is also available.    We have also bred the following pairs of dogs who should deliver near the end of August if all the pregnancies take. 
Artemis and Ozzy-Standard F1B Bernedoodles         
Daisy and Phoenix-mini F1B goldendoodles             
Rosie and Toby – larger mini F1B Goldendoodles           
Bailey and Lincoln – medium F1B goldendoodles
3-29-22  As I've been going through my mini goldendoodle waitlist, I have been realizing that I will have some of Rosie's puppies available.  So, If you are interested in a dark red, F1 mini goldendoodle, let me know!  They are in the selection process now and will be ready for their new homes on April 16th.  I'm also looking for a guardian home for one of her girls who I am keeping!
3-21-22  Artemis' puppies are busy running, making messes and seeing visitors!  There are only 4 available!  Rosie's puppies have started eating food and are just beginning to waddle around.  Zoey is pregnant with our first litter of Aussiedoodles.  Snickers, Shasta and Arya have been bred, but no pregnancies have been confirmed and Cleo will be bred in a little over a week. 
We are looking for a few guardian homes for some of our puppies and dogs.  Please see the guardian dog page.
2-21-22  Our puppy room is full of puppies!  Artemis has 13 standard bernedoodles and Rosie has 10 red mini goldendoodles.  Everyone is growing great and looking beautiful!
1-27-22  Lilly has gone home to her new family in Roseville.  BB's last pup also went to Roseville, but with a different family.  Both dogs got great, loving, active homes!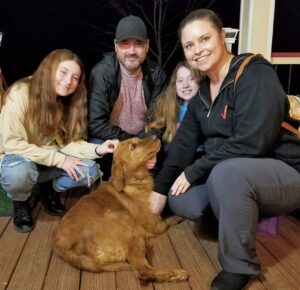 1-22-22  BB's puppies begin going home today!  There is still 1 little boy available. 
We have exciting pregnancy news!  Artemis is pregnant and will be having a litter of standard F1B Bernedoodles near Valentine's Day.  Rosie is also pregnant and will be having F1 mini goldendoodles near the end of February.  They should be dark red pups since Rosie and Oliver are both dark red. 
Lilly, our retriever, has been spayed and is looking for a nice retirement home.  She is very calm, but clumsy and would do well with most people, other dogs and cats.  She spins when she is happy and doesn't always have great spatial awareness.  We don't want her knocking over an elderly person, so a little younger owner would be ideal.  
1-2-22  We wish everyone a Happy New Year! 
We are hoping for several new litters this year from new moms as well as some of our current girls.  We have bred our standard Bernedoodle, Artemis, to a standard blue merle poodle named Ozzy.  We are looking forward to this being our first ever litter of standard F1B Bernedoodles!  We have bred Rosie, our red golden retriever, to a toy poodle, Oliver, and are hoping for lots of dark red mini F1 goldendoodles from them! We are planning to keep 2 girls from that litter as future m ommies.   We won't know about either girl's pregnancy till close to the end of January. 
At this moment, we have 5 mini black goldendoodle boys and 1 apricot medium male goldendoodle.  Then, we have a little break till our next litter near the middle of February.  We also got a mini Australian shepherd baby girl who we have named Caleia and look forward to mini Aussiedoodles from her early in 2023.
12-22-21  Yeti, from Arya, is the only puppy we have available before Christmas.  In Bailey's litter, there are 3 boys and 1 girl available and they go home on or after January 10.  BB's pups go home January 22. 
For upcoming litters, we do not have any pregnancies confirmed, but we did breed Artemis to a standard AKC poodle last week and hope for puppies in Feburary.  Rosie is being bred this week for mini F1 goldendoodles who should be dark red.  We won't know if these girls are pregnant till late January.  Shasta, our mini bernedoodle, should go into her second heat in January and be bred for mini F1B bernedoodles. 
Sophie found a great new home with a couple and a German Shepherd brother and is acclimating well.  Bilbo is living in Orangevale with 2 people brothers and their parents.  He is enjoying them immensely!  
12-9-21  There are 4 puppies available in Arya's litter.  These are our smallest mini goldendoodles.  Jellybean, Twinkie, Yeti and Shiver are looking for families.  They are ready to go home Friday, December 17.  Also, Lilly's F1 medium pup, Caesar, is available.  My lists for Cleo and BB's pups are still open.  
12-5-21  There are new photos of Lilly's and Cleo's puppies on their litter pages.  Lilly's pups are leaving us beginning on Wednesday and we will miss their fat squiggly bodies.  Arya's puppies are in the midst of the selection process and it looks like there might be a couple of boys available.  Cleo's pups have opened their eyes and are beginning to waddle around…not very far, but one of them managed to crawl out of the whelping box today, so the whelping box will be leaving this week and they will begin wandering around more!  BB's pups are still little beans and only 1 week old.  She has lots of very shiny black babies.  
11-21-21  We will be contacting people on the mini waiting list to come and visit Gabbi's pups and take their puppies home.  We will also be contacting people on our medium list to come visit Lilly's puppies and make their selections, although they won't be ready to go home till December 8.
11-4-21  Lilly's puppies have graduated from the whelping box into a bigger area and are moving around very unsteadily.  Lilly continues to be a great mom and just loves her babies.   When I send her out to go potty, several of her babies howl in protest.  Their little "OOOOO" shaped mouths are so sweet!
Arya's babies are all growing well and stay huddled together in their puppy pile.  Their eyes haven't opened yet and I will take photos of them when they are a little older. 
Gabbi's puppies have now experienced life outside the puppy room and are learning how to use a doggy door to the great outdoors, which they love.  Even more than playing outside, they love people and it is so comical to see them toddle after us with their short fat tails wagging like crazy!  I will get a video and post it on Instagram and Facebook later!  They are just adorable.  They are also developing quite a love for their soft, yummy food.  You should hear them whining for it in the morning!
10-3-21  Little John and Ruby have sold and are in their new homes!  Because we have so many mini goldendoodle puppies, we are opening our waiting list early.  All of our waiting lists are open for upcoming litters.
10-2-21  Gabbi had her puppies on Wednesday and there are 7 beautiful, fat babies!  She has 5 girls and 2 boys and all are doing well. 
Arya is definitely pregnant and getting bigger by the day.  Lilly is also expanding.  This will be her last litter of medium F1 Goldendoodles.  Lilly is the calmest retriever we have ever seen!  We have bred Cleo to Lincoln and  BB to Phoenix. 
We have 2 available puppies at the moment:  Little John (F1B Bernedoodle) and Ruby (F1b mini Goldendoodle).  Please call or email for info about these pups.
9

-22-21  We are currently on pregnancy watch for Gabbi.  She was due Monday and no signs of puppies yet!  It will be soon!   Lilly is due in the middle of October with her F1 medium puppies.  We haven't confirmed Arya's pregnancy yet, but we should know soon. We have 5 pups who are still waiting for their forever families.
9-17-21  We are down to 8 available puppies and they all have new photos on their pages.  There are 2 red tuxedo male bernedoodles, 1 large mini F1B goldendoodle and 5 medium F1 goldendoodles.  Enjoy the photos!
9-10-21  Several of Bailey, Artemis and Sophie's puppies go home beginning on Saturday!  They are so cute and fuzzy and we will miss their antics!  However, they will all become stars in their own homes and live the spoiled lives they deserve.  I hope to get photos of everyone who is still with us on Sunday.  They grow so fast and get cuter every day, if that is possible!  There are several medium F1 goldendoodles and a few red and white F1B bernedoodles available.
In other news, Gabbi is indeed pregnant and is due on the 21st of September.  Arya and Lilly have also been bred to Bilbo.  Cleo will be bred near the end of next week, we think.  The only one we are waiting on is BB and that should be any day!
8-15-21  We apologize for the delay in getting new photos online.  My camera is not cooperating with my computer.  I hope to get some photos up on the website, Facebook and Instagram tomorrow.  I will be starting with Sophie's pups, then Rosie's, Artemis and finally, Bailey's.  Also,  Gabbi and Phoenix have been bred as have Lilly and Bilbo.   Arya and Bilbo will be bred next week.
8-1-21  Rosie had 11 puppies on Tuesday, July 20.  Bilbo is the father and they are F1 medium pups.  We have no more puppies coming for a couple of months.  Gabbi just was bred to Phoenix and we are awaiting heat cycles from Lilly, Cleo, BB and Arya.   We have been busy doing ENS on all 30 puppies and plan to do some update phots this week as some of their eyes have now opened!  They are getting cuter by the day!
7-19-21  We've had a busy puppy room since late Thursday night/early Friday morning.  Bailey delivered 5 puppies from 11 pm to 4 am.  On Saturday at 8:30, Artemis delivered 10 puppies.  I the middle of her delivery, Sophie got in on the action by delivering 4 puppies of her own.  I am working on getting photos on each litter's page.   Rosie is likely to deliver her medium F1 goldendoodles tonight since her temperature went way down last night.
7-14-21  Tinkerbell is healing well from her spay and will be ready to go to her new family in a couple of weeks.  She is just as happy as ever! 
Sophie is still hanging on to her babies and her temperature is not showing that deliver is eminent.  Bailey and Artemis are right on her heels.  Bailey's temp is actually lower than Sophie's today, but not near the 99 degree mark.  Generally, when the temp falls into the 99 degree range, delivery is less than 24 hours away!  We also have one more pregnancy with Rosie, our dark red golden retriever and Bilbo.  She is due in a few weeks and is already showing.  This will be her first litter.  I will post some photos of her in the next few days.   
Our waiting list for miniature Goldendoodles is now closed unless you already have a puppy from Quartz Mountain.
 6-30-21  We just want to let you all know that Tinkerbell underwent a miscarriage a week ago and is doing fine, but there will be no puppies from her.  She will be spayed next week and after healing from that surgery, will be going to a new home.  Also, we have 3 confirmed pregnancies
and they are all due in July.  Sophie and Phoenix are due early in July, Bailey and Phoenix are due mid July and Artemis and Colt are due the third week of July.
6-5-21  ******Mini Goldendoodle wait list opening at 10 am on Saturday, June 26 by email only.  ***********Just send me an email and I will send a waiting list back to the first 20 people who respond.  You can fill out the form and send it back with a $300 deposit to secure your spot on the waiting list.  I anticipate 3 or 4 litters ready to go home from fall to the end of the year.  Puppies will be $3000 unless they are particolored.  Partis are $300 more.
5-21-21  We are working to update photos and there are a few videos on Facebook and Instagram.  We have decided to release Calliope to be adopted.  We were planning to keep her for breeding, but we discovered a tiny umbilical hernia and cannot breed her after all.  She went to her new home last week and her new family adores her.
5-20-21  Exciting news for everyone on our medium bernedoodle waiting list!  We are taking Artemis to the vet today to breed with an outside stud, Colt.  We hope for her first litter to be beautiful and be born near July 23.  I can't add any more people on her waiting list till I know she is pregnant and we have more puppies than people waiting.  I am just so happy to anticipate Artemis' first litter!  We have also bred Tinkerbell (medium), Sophie (mini), and Bailey (mini) in the last few weeks.
5-17-21  We have 3 spots open for BB's black mini goldendoodles.  They are awesome, funny pups who get all of Frankie's attention and yes, they are spoiled!   Sophie and Bailey have been bred for litters in July, hopefully.  Tinkerbell has been bred for medium goldendoodle pups in July and Artemis is going to be bred next week for medium bernedoodles. It is very busy around here with our puppies growing and playing and new pregnancies!  Remember, we are opening our list for medium sized goldendoodles on Saturday morning right at 10.   I have an F1 boy from Lilly and Lincoln who will be going to someone on this new waiting list.  He is ready to go home on May 27, so someone won't be waiting very long!
5-10-21  Lily (Cleo) has 6 new babies to care for in her first litter.  There are 4 girls and 2 boys and photos on her page.  The new waiting list for medium goldendoodles will open on the 22nd.  More info is on the waiting list page.  We will be taking new photos of BB's pups tomorrow and getting them on the website as soon as possible.  Also, we are looking for a very secure guardian home for our new mini phantom poodle male, Pippen.   He will be the sire of our bernedoodes in about a year if he passes all his health tests.
5-1-21  I just posted new photos of Arya and Lilly's puppies.  Thank you for your patience!  Our daughter got married last weekend and most of our time was occupied by that!  BB's puppies have opened their eyes and will get photos this coming week.  And, in less than 2 weeks, Cleo/Lily will present us with a whole new bunch of adorable puppies.  We will be starting the process of selections for Lilly's puppies on May 6 and for Arya's puppies on May 11.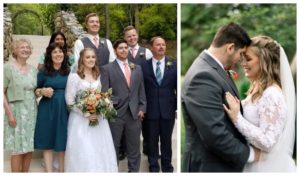 *******My waiting list for medium goldendoodles will open up sharply at 10:00 on Saturday, May 22 via email only.  At that time, email me at [email protected] and I will respond back.  I will send out waiting list forms to the first 20 people which can be filled out and returned along with a $300 deposit.  When I have received both items, your name will be added to the waiting list and when it comes time to select puppies, you will be invited to come, play with and choose your puppy in the order you appear on the waiting list.  Puppies will be $3,000 unless the are parti colored.  Partis are $300 more.*****
4-13-21  Lots of news!  My daughter and I went to visit Lily/Cleo and performed a pregnancy test which came back resoundingly positive!  So, we expect some medium apricot and parti pups in another month! 

Then, on Monday, I went over to BB's home at 11 pm because the time of her delivery had come!  She now has 10 new puppies.  There are 6 black puppies and 4 red-apricot puppies.  There are 4 girls and 6 boys as well!  BB did an awesome job and has taken to motherhood with ease!  Frankie has named all the puppies with names beginning with the letter L in honor of her and her husband's last name.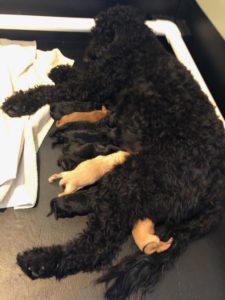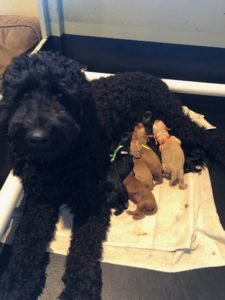 4-7-21  Gabbi's prospective puppy owners are beginning to come and select their puppies!  Everyone is having a great time with that process! 
Lilly had 7 puppies on Thursday, April 1 and Arya had 5 puppies on Tuesday, April 6.  She has 4 girls and 1 boy.  I visited BB yesterday and I think she is going to have a large litter.  She feels like a basketball!  Lily's (Cleo) guardian family feels she might very well be pregnant.  She has thrown up twice and her nipples seem enlarged.  So, I am hopeful that she is going to give us puppies in May.
3-25-21  There are new photos of Gabbi's pups on her litter page.  In about  2 weeks, we will begin having visitors for her puppies.  Lilly and Arya and BB are all looking round and full of puppies.
3-4-21  Gabbi had 7 puppies early Tuesday morning.  There are 4 girls and 3 boys.  All the pups will go to people already on our waiting list.  Arya is next to have her pups in the beginning of April.  Lilly will be having medium sized pups close to Arya.  BB will follow them later in the month of April with minis.  Lily (Cleo) will be bred this coming weekend for mediums.  So, lots of babies coming!  
2-22-21  All of Tinkerbell's puppies have gone to their new homes and Bailey's puppies start leaving this coming weekend.  I am beginning to contact people on my mini list for Sophie's puppy selections.  Gabbi's guardian family wrote me last week saying that all of a sudden Gabbi was looking pregnant and her tummy seemed to have doubled overnight.  When I visited her 3 weeks ago, we were all convinced she was not pregnant, so I didn't do the blood test.  Well, she surprised us and is now looking definitely pregnant!  She is due the first week of March.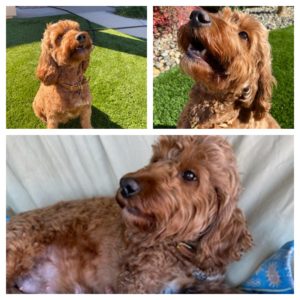 1-29-21  We have people coming to visit Tinkerbell and Bailey's puppies beginning in February.  They are getting fatter and fuzzier by the day.  They are very happy, friendly pups.  In other medium goldendoodle news, Lilly has been bred and I will know in 5 weeks if she is pregnant.  BB just went into heat and will be bred in about a week and a half. 
 For our minis, Sophie's puppies will be opening their little eyes soon and be moving about in a week or so.  I should know in about a week if Gabbi is pregnant.  My daughter took off for college in Riverside, 8 hours away, and the day after she arrived, Arya went into heat!  So, I am driving half way to meet her on Saturday to bring Arya home for breeding.   I
 will be breeding Arya in a little over a week.  All in all, it is a busy time around here. 
1-23-21  Tinkerbell's pups are 4 week old and I will be reaching out to the first 6 people on my waiting list to set up visits for people to come, play with the pups, and make their selections.  Bailey's pups are beginning to work their way out of the whelping box and will be exploring the puppy room soon.  Sophie had her pups last Saturday night and they are growing well and looking sweet and healthy!  Sophie is a very protective mother and her babies are kept shiny and clean.  I have posted a few new photos of them.  I hope to do Bailey's puppies' photos tomorrow or Monday.  I can do a pregnancy test for Gabbi next week to see if she is pregnant and Lilly has just gone into heat, so we will be breeding her in a week and a half.
1-6-21  Bailey and Tinkerbell's pups are growing fatter by the day and Tinkerbell's babies are just starting to open their eyes!  I'll take photos on Friday.  Sophie is getting rounder and rounder and due on the 16th.  Gabbi has been bred to Phoenix, but we won't know if she is pregnant for a month and there is the possibility that she might go into heat again.  She has had a split heat twice in the past and I don't know if she will do the same thing this time. 
We do not have any open waiting lists at this point.  I don't anticipate opening any lists till approximately February and that will be for F1 or F1B medium pups from Lilly and BB. 
1-1-21  Two things happened today.  Our little Tinkerbell boy passed away peacefully with his little head resting comfortably on the stuffed animal we had placed in the basket with him.  There must have been something going on internally that we couldn't see. 
 After checking on him, I looked in on Bailey and Tinkerbell and discovered that in 2 hours, Bailey had delivered her first litter, all by herself!  She had 6 babies and they all looked fat and healthy.  Happy New Year!  
12-27-20  Tinkerbell started running a fever of 103.1 and we called the vet for advice.  Since she was still eating well and acting completely normal, we decided to just watch her for signs of improvement and by morning, her temperature was down to normal range.  The tiniest puppy, who was about a third the size of his siblings was not able to maintain his body's temperature, so he came inside to be placed in a basket with a heating pad.  He was bottle-fed every 2-3 hours and on antibiotics.  He ate well, but never vigorously.
12-26-20  Tinkerbell had 6 puppies from 11 pm on Christmas Eve and ending at 8 am Christmas morning.  I could tell she still had a puppy inside, so, by late afternoon, at our vet's advice, we gave her some oxytocin.  It increased her contractions, but no puppy was produced.  After a second dose of oxytocin an hour later and still no pup, Tom took her to the vet's office.  He tried a couple of different things, but no luck.  So, at 9:30 pm, he performed a C-section and 2 puppies were born limp, lifeless and dehydrated.  Tinkerbell was also dehydrated and was given an entire bag of IV fluids.  One puppy, a male, was revived and given fluids, but the other was unresponsive.  At 12:30 am, Tom brought home a groggy momma dog and a fat, hungry, very large puppy.  The vet advised us to watch Tinkerbell closely for fever or other signs of infection.   All of the puppies did well with bottle feeding in her absence.
12-23-20  I am beginning to think that Tinkerbell will hold onto her puppies till Christmas Day again, just like last year!  What a dog!  She was due on Monday, but no signs of any changes yet.  I take her temperature twice a day and when it plummets down below 98 degrees, she will have puppies within 24 hours! 
Bailey is due in the first week of January and Sophie is due in the middle of the month.  Gabbi just went into heat and should be bred the first week of January for puppies in March or April.  She has had split heats the last two pregnancies and has been rebred a month after her first breeding.  Makes life interesting!  Our two new mini bernedoodle girls are growing and learning their manners well.  One of them, Snickers, has been claimed by our daughter who is working hard on potty training and obedience training.  Her hardest lesson is to learn to take treats gently.  I don't even think she tastes the treat, but just gulps it right down without even chewing!  Shasta, her sister is in a guardian home nearby and is really doing amazing things with her owners and big brother, Truckee, who was a Paisley puppy.  Both girls are absolutely stunning!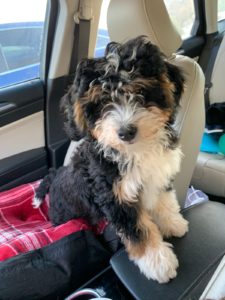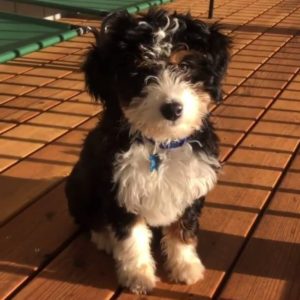 12-15-20  Tinkerbell and Bailey have growing tummies and are getting closer to their delivery dates in  a couple of weeks.  Sophie has also been bred and I am pretty sure she is pregnant.  We are waiting for Gabbi, Arya, Lilly and BB to go into heat in the next month or two.  Artemis and Cleo did not get pregnant, so we will try again in 4-6 months. 
 Thank you to everyone who emailed me on Saturday to get on our mini goldendoodle list.  We received 42 emails exactly at 10:00, so my openings were quickly filled and the list is closed.  As always, if you are a Quartz Mountain puppy owner, you can always be added to the waiting list, even if it is closed.  It might be a long wait, but at least your place in line will be saved!
11-28-20  Happy Thanksgiving (a little late).  Tinkerbell and Artemis both had a positive pregnancy test, so I expect puppies around Christmas from both of them!  Sophie has been bred for minis and I am waiting for Gabbi and Arya to also go into heat.  We received 2 mini bernedoodle girls for F1B puppies in the future. One of them, Shasta, will be going to her new guardian home tomorrow and the other, Snickers, will be staying with us.  Our daughter has taken over house training for her and loves her to bits.     
I will be opening up my mini goldendoodle list for 15 new names on Saturday, December 12 at 10 am via email only.  If you are one of the first 15 people to email, I will send you a waiting list form and you can fill it out and send it back along with a $300 deposit which will come off the total price of the puppy which is $2500.  When I receive both the form and the deposit, your name will be added to the waiting list.  You will get to choose your puppy based on where your name appear on the list.  I expect all of my mini pups to be born from January through March.  Of course, if you already own a Quartz Mountain pup, you can be added to the waiting list at any time.  You do not have to wait till I open it.  
11-10-20  I'm not sure what happened to my page here, but it was all messed up and now it it fixed.  Lots of news. 
I have no puppies at the moment, which is very unusual, but I have bred Tinkerbell, Bailey, and Cleo (who is now living with a guardian home and is now Lily) for medium sized puppies.  It was just a  couple of weeks ago, so it is too early to know if any of them are pregnant.  I have also bred Artemis, our standard Bernedoodle for medium sized pups as well.  We will not be breeding standard sized puppies any more because Scout has developed patellar luxation which is a genetic issue and we don't want to pass it on to any of our puppies.  His hips were fine, but not his knees.  So, he will be neutered in December and rehomed.  I expect Gabbi and Sophie to go into heat some time in December and will keep everyone updated on the opening of their waiting list as well.  I hope to open it in December for 15 people. 
I am opening a list for medium sized goldendoodles on November 14 at 10:00 a.m. via email only for 20 new names.  If you are interested in being one of these future puppy owners, email me right at 10.  I won't accept any emails that come prior to 10.   If you are one of the first 20 people, I will send you the waiting list which you can fill out and send back along with a $300 deposit.  When I receive both items, your name will be added to the waiting list.  Puppies will be chosen based upon where your name appears on the waiting list.  As always, if you already own a Quartz Mountain pup, you can be added to the waiting list at any time.
10-14-20  The puppies of Lilly's who will be available for reservation on Saturday at 10:00 am via email only are Carlos, Harley, and Cubby. 
10-10-20  I got the remaining 2 tests back and the puppies belong to Bilbo, not Scout.  So the score is………Bilbo-6  Scout-1
10-10-20. Finally!  Results are in.  Well, at least most of them.  5 of 7 to be exact!  Of the 5 puppies who's results are in, 4 of them have Bilbo as a father and one has Scout.  Liam (orange) and Cubby (silver) have no results yet.  I think Liam is standard and Cubby is medium, but we will see if I am right or not.  I was right on MOST of my guesses.   I notified everyone on my waiting list and it looks like I might have 2, or possibly 3 available. 
So, I will be opening up my list to 5 people at 10:00 on Saturday, October 17 by email ONLY.    Don't get excited and text or call because that won't put you on the list. I will respond to everyone, but the first 5 people who email at 10:00 and not a second earlier will receive a waiting list form to fill out and return along with a $300 deposit.   If you don't get on this list, I expect 2 litters of medium sized puppies and 3 litters of minis by the spring of 2021.  
10-4-20  Gabbi and Sophie's puppies have all gone to their new homes except one who is leaving Monday morning.  They grow up and leave home so fast!   
I called Paw Print Genetics to check on Lilly's puppies' DNA test and they told me it should be completed by October 9.  I have never had it take this long for test results and I apologize.  As soon as I get word from them, I will announce it to you.  I am as eager to get the results as all of you who would like to get on her list and get a puppy!  After Lilly's litter, I have no more litters coming till possibly Tinkerbell in December.  She has not gone into heat, but as soon as she is bred, I will let you know. 
We do have a few new dogs growing up to be mommies, but they are just beginning preliminary hip testing at the end of this month since they are over a year old.  If they pass, the will be added to the list of possible mothers.  We have Bailey and Cleo who are full sisters and half sisters to Tinkerbell.  Cleo will be bred for standard F1B goldendoodles and Bailey will be bred for F1B medium goldendoodles.  We also have Arya, a mini F1 goldendoodle, who will be bred for F1B minis.  All three of these girls have the capability of producing parti colored or abstract goldendoodles.  We also have Artemis, an F1 Bernedoodle who will be bred for standard F1B Bernedoodles.  Finally, we have a 4 month golden retriever named Rosie, who will need a year more to grow and develop!  She is going to be a big girl and will be bred for standard F1 goldendoodles. 
9-16-20  Jasmine went home yesterday to her forever home and is loving her new life of luxury!  She has earned her wonderful retirement!

I still have no DNA results on Lilly's puppies yet!  I am eagerly watching the website daily!  They are really starting to waddle around and even try kibble!
Gabbi and Sophie's puppies are all reserved and chosen except the last 2 and I should know who is getting them this weekend.  My next litter of minis will be in February, hopefully.  If you are looking to get on a list for minis, check the website in January for announcements regarding the opening of my wait lists.   
I am still waiting for Tinkerbell to go into heat for medium sized pups near December.  I should be opening a list in November for that litter.  All of my waiting lists are closed unless you already own a Quartz Mountain Pup.  If you do and you are wanting another puppy, you can get on a waiting list any time you chose!
9-2-20  DNA tests are being sent out on Lilly's pups.  I hope to know which are standard and which are medium by the end of September.  Gabbi and Sophie's pups are all playing outside and eating solid food and growing well.  It is hard to get work done with all those puppies jumping at my ankles!  I learned today that spraying cement pens is not a good idea while wearing Crocs.  Who knew they were so slippery!  There are new photos of Sophie's pups and Lilly's too!  Enjoy!
8-25-20  Lilly had puppies yesterday!  She has 6 boys and 1 girl.  Mommy and babies are doing well.  The colors range from light apricot to a dark red.  I will be sending off the DNA tests later this week and hope to have results back by mid September when I will open her waiting list. 
Gabbi's puppies are wandering outside a bit and I have just posted new photos of them.  I hope to do some new photos of Sophie's puppies in the next few days as well.  I will begin setting appointments for people on their list to come visit and pick out their babies in a couple of weeks.
8-10-20  Sophie has had her puppies!  She actually delivered 9 healthy puppies while we were at my cousin's house for dinner!  We came back home last Sunday to 4 girls and 5 boys!  Sophie is being a very attentive mommy and all of her babies, though small, are doing well.  She actually jumped the fence between her and Gabbi's pen and had 3 of her babies in with Gabbi and her chubby babies. 
Gabbi's babies are beginning to open their little eyes.  I hope to do individual photos in the next couple of days. 
Lilly is definitely pregnant and is due on August 18.  She is not huge, so I am not expecting a large litter.  Of course, Sophie was tiny and gave us 9 pups.  We were all very surprised about that! I will DNA test them as soon as I can so that I know which are medium and which are standard.  At that time, I will be able to open my waiting list.  I expect that to be about mid September.  
7-28-20  Gabbi surprised me on Sunday by delivering 9 puppies on Sunday, 4 days before her due date!  All pups and momma are doing well.  There are 7 boys and 2 girls.  The girls came first and I was so excited thinking that I would have lots of girls for all the people on the waiting list who prefer girls, but all the rest of the pups were boys!  So many things we can't control!  We are so happy with all 9 beautiful little babies! 
Sophie is due on August 8 and she is looking a little like a goat!  I am hoping Lilly is pregnant.  She's at the stage where she looks wider in the chest area, but I'm not sure if she is pregnant or just chubby!  
7-21-20  We want to thank everyone who emailed yesterday.  Within the first 2 minutes of the list opening up, we had over 40 inquiries for only 3 spots.  Needless to say, we felt terrible breaking so many people's hearts! Our waiting list for minis is closed until January 2021.
Gabbi is getting very large and I am sure that she is having more than her normal 5 puppies.  Sophie is also growing, but I really don't have a feel for how many puppies she is carrying right now.  Lilly is still an unknown.  Sometimes I think she is pregnant and other times I wonder…. Three of our young girls just went out of heat, so in 6 months, when they go into heat again, they can be bred.   
Jasmine's 4 puppies are going home this weekend and they are growing like weeds!
7-11-20  Paisley went home with her new family this morning.  She gets to bask in the attention from 4 people and her daughter, Ginger.  She will be missed.  She was my first goldendoodle mother!  She is a sweet, calm, loving girl.
7-9-20  Sophie is pregnant as well as Gabbi.  I have 8 people on my list for the litters.  In the past, both dogs have given me 5 puppies each, so I am expecting the same number of puppies this time, but hoping one of them gives me 6 pups!  We will see! 
I will be opening the waiting list for the first 3 names of the people who email me beginning at 10 am on

Monday, July 20

.   NO ONE will be placed on the list before that time and date.  I will respond to your email on the 20th as soon as I can with a form and instructions on placing a deposit.  Our email is [email protected].  
Lilly has been bred and should be giving me some standard as well as some medium goldendoodles.  I will be testing the puppies' DNA to see how many of each size I have before I open up Lilly's waiting list.  I expect to know the results mid September.
6-30-20  I am pleased to announce that Gabbi is indeed pregnant and due to have pups on July 31!  Yeah!  I am so happy about this!  I should know about Sophie in a couple of weeks.  When I know, I will let you all know.  At this point, because Tinkerbell didn't have her litter as expected, people have moved over to the mini list and I might have 2 openings for Sophie's list.  I do expect more pups in spring of 2021.
6-23-20  I just want everyone who is being so patient about upcoming mini goldendoodle litters that when My list opens up, I will only have room for 2 or 3 people.  I wish I had more room, but I just don't.  However, Gabbi, Sophie and my new girl, Arya, will hopefully be having more litters around February of 2021.  I will be posting photos of Arya later this week.  She has passed her genetic tests and now I just need to wait till she is a year old and test her hips and elbows.
6-22-20  Jasmine's pups have opened their eyes and are beginning to really move about.  They've discovered their voices and it is adorable!
I am cautiously optimistic that Gabbi  is pregnant.  She seems to be widening out, but it is still a little early to confirm.  Sophie and Lilly have also been bred, so we will just sit back and wait to see if they start to "blossom"!
5-3-20  Paisley's last puppy goes home tomorrow.  All the rest went home Friday and Saturday.  Its a little sad, but I know how much they are loved in their new homes.
Jasmine is definitely pregnant and due around June 5.  I'm not sure about Gabbi yet, but I should know in a couple of weeks.
4-14-20  Paisley's puppies are in the selection process and are as cute as can be!  Gabbi, Jasmine and Tinkerbell have been bred, but it is much to early to determine pregnancy.  Gabbi's waiting list is closed.  I am waiting to tell if she is pregnant.  If she is, I will be opening up the list for Sophie's next litter.
We are actively seeking guardian homes for several girls so that they will get more attention than we can give them at this time.   We love our dogs, but feel they would be happier being part of a home.
Tigerlilly went to her new home in North Hollywood.
3-7-20    Paisley had 7 beautiful puppies on Friday, the 6th.  This is her very last litter and she will be retiring to live in the lap of luxury after they are weaned.  Selection time for Sophie's litter is beginning on Sunday and Lilly's pups will be chosen beginning with next weekend.
7-8-19 Jasmine's last puppy was sold today and went home to Sunnyvale!
Lilly had 10 puppies on July 3 and they are all growing nicely!  Tigerlilly is due later this week and Tinkerbell is due about a week later.  Sophie is definitely pregnant and due at the end of the month.
4-9-19  Gabbi is looking nice and round.  I am so looking forward to her pups since she hasn't had any for awhile.
We got another dark red mini F1 goldendoodle named Sophie.  When she came to us from Michigan, she needed a haircut and the groomer shaved her!  So, I've been waiting to take pictures of her as her hair grows out.  She's looking pretty good now, so pictures will be coming soon!
2-23-19  Tinkerbell is definitely pregnant and her tummy is starting to feel like an inflated basketball.  She is due on March 8 and I can't wait to meet the puppies!
1-15-19  Paisley had 10 puppies on Sunday!  5 girls and 5 boys!  She is an amazing, loving mommy.  One of the little boys was not breathing when it was born and we had to massage it and suction out the nose and mouth, but he was still very lethargic.  After tube feeding every 2-3 hours, he finally started making noise and moving around at 2:30 in the morning.  Now, he is back with his mother, nursing and acting like everyone else!
1-4-19       Rosebud's 13 puppies are starting to waddle around and open their eyes.  They are looking more adorable every day.  Paisley is looking more and more uncomfortable and is due on the 12th, but I wouldn't be surprised if she delivers earlier.
8-3-18         We had an ultrasound on Tigerlilly and Gabbi and both girls are pregnant.  The vet says Gabbi has at least 8 puppies and Tigerlilly has about 6.   Tigerlilly's list is full, but I have 3 spaces available for Gabbi.
7-31-18      All of Lilly's puppies are reserved.  Our next litter of minis will be with either Gabbi or Tigerlilly.  They are having ultrasounds to confirm pregnancies this coming Thursday.
7-30-18           We have 2 mini/medium males available and 6 standard sized males available.  Paisley's puppies are ready to be viewed as well She has 3 males and 6 females.
7-11-18          We have three litters of puppies keeping us busy.  Rosie's puppies just had their first taste of real food and thoroughly approved!  Paisley's puppies just had their dewclaws removed and Lilly's puppies are moving out of their whelping box into the great big, wide world of their puppy pen.
7-7-18          Gabbi and Tigerlilly have been bred.  I should know if they are pregnant near the end of August.
6-6-18           We have 2 black f1 standard goldendoodle puppies available.
Lilly and Rosie are due in a couple of weeks and both are getting round and slowing down.