Shasta and Rodeo had a litter of 9 puppies on July 1.  There are tri colored, phantom and blue merle pups that should mature to about 30-35 lbs.  This is their first litter together and the pups should be amazing since both dogs are friendly, well rounded dogs.   All these puppies are named for lakes near Mt. Shasta.  
To make room for upcoming litters and to get these little pups into loving homes, we have lowered our prices to $1600. 
Available pups at 8  weeks old
Heart lives up to her name!  She is the sweetest, tiny little girl who captures your heart with her antics.  She also has 2 blue eyes and is available.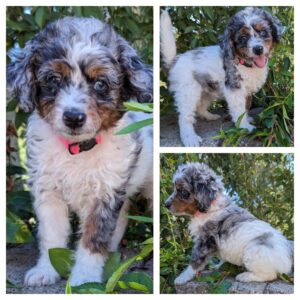 The Parents:  Shasta and Rodeo