Tinkerbell and Lincoln- F1B medium Goldendoodles
Tinkerbell has 6 puppies in this litter.  There are 4 girls and 2 boys.  3 of the pups are apricot and 3 are parti.   The pups will be 30-50 lbs as adults. Solid colored pups are $2,500 and parti colored pups are $2,800.   All of these puppies are reserved and the waiting list is full.   
2 weeks old
Cindy Lou is the littlest of the two apricot girls.  She has a little less curly hair and a tiny teardrop of white on her head as well as a few white toes.  She is reserved.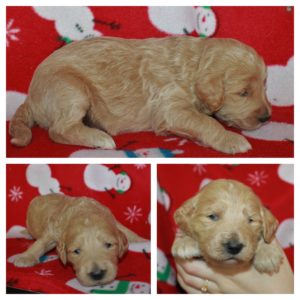 Dickens is the last puppy born and the one who was born by Caesarian.  He is a big, round boy with a little comma of white on his head.  He is reserved.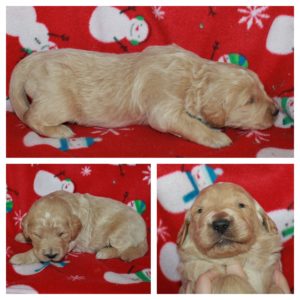 Eve is a smaller girl and has lots of parti markings.  She is reserved.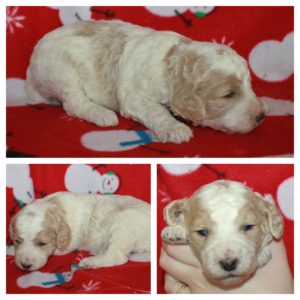 Frosty is a big, fat boy who loves to eat more than anything else.  His markings are coming through more and more every day.   He is reserved.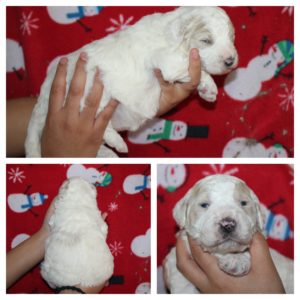 Noel is a chubby little girl whose parti colors are developing slowly too.  She is reserved.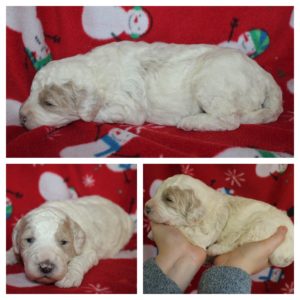 Sugarplum is a roly poly little apricot girl.  She is reserved.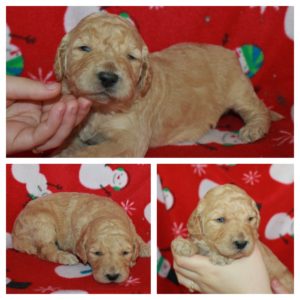 1 week old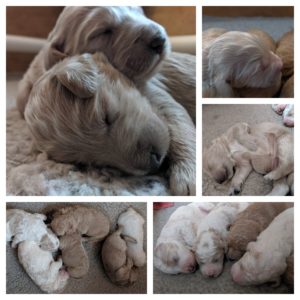 Parents–Tinkerbell and Lincoln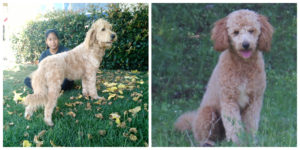 Past Puppies