Lily/Cleo and Lincoln-Medium F1B goldendoodles
Lily/Cleo gave us 6 new puppies on May 7.  There are 2 boys and 4 girls and they are mostly apricot colored and 1 parti colored girl.  Their pups will be 35-50 lbs.  Both parents have super sweet, loving personalities. 
7 weeks
Dahlia has really grown and is very cuddly yet curious!  She is reserved for Maya and will be heading to Roseville to be with her family soon.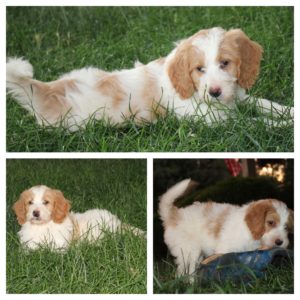 Beau,  formerly Finnick, has changed into a light honey golden color.  He is very roly poly and loves other dogs.  He will be moving to Redwood City soon and joining Ravneet's family.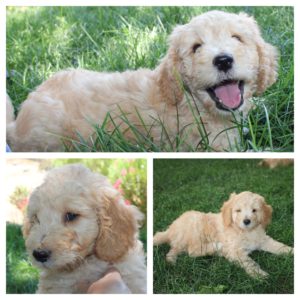 Iris is a busy, active beautiful girl who will call Sacramento her home. Justin's family is excited to come and get her!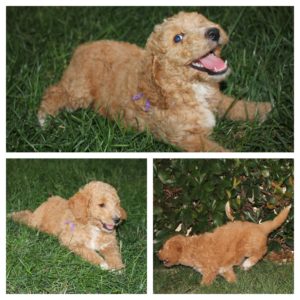 Leilani is really getting fuzzy and fun loving.  She will be traveling with Andrew all the way to Los Angeles.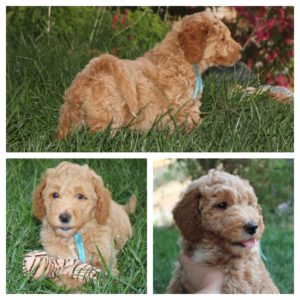 Ren, now Bucky, is looking a lot like his sister, Iris and darkening up some. He is such a funny guy and will run straight at you for love and never slow down till he plows into your leg.  He will call Monterey his home and Lisa his mom!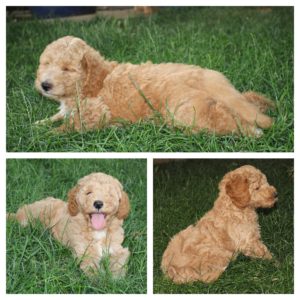 Violet is a bouncy explorer! Kim and Justin will be sweeping her away to Sparks on Friday.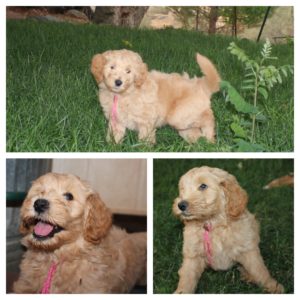 2.5 weeks
Dahlia is an apricot parti girl who will have loose curls.  She is reserved.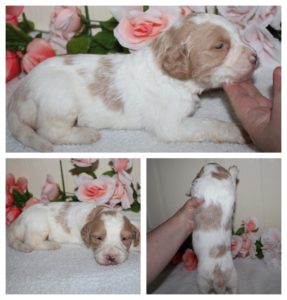 Finnick is a little smaller than his brother, but they look so much alike.  He has white feet and curls.  He is reserved for Ravneet.
Iris is the darkest pup in the litter and is a stunning abstract.  She is reserved for Justin R.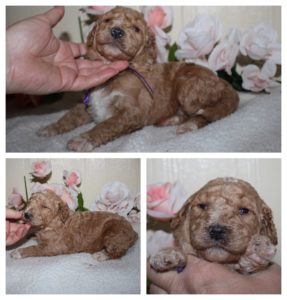 Leilani is a light apricot girl with the most amazing little streak of black fur by the corner of her left eye!  She is reserved for Andrew.
Ren is the bigger of the boys and is a light apricot with white feet and chest.  He is the last one to open his eyes.  He is reserved for Lisa and will be called Bucky.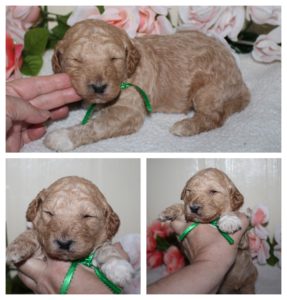 Violet is a petite girl with a little crazy cowlick on her nose.  She is reserved for Kim and Justin.

Newborn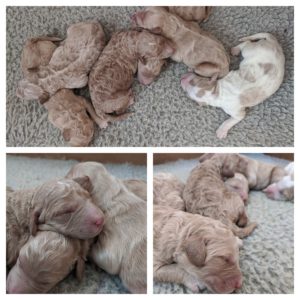 The parents:  Lily and Lincoln