Lilly and Bilbo-Medium F1 Goldendoodles
Lilly and Bilbo have a new litter of puppies, born on April 1, 2021.   There are 6 puppies and only 2 are girls which will be saved as breeders.  One will go to Loomis and become part of another goldendoodle breeder's girls.  The other will be living with a guardian home locally.   The puppies will be anywhere from 35-50 lbs and are reserved for people currently on our waiting lists.  We will be opening a new waiting list for medium goldendoodles on May 22.
4 weeks
Cosmo is the biggest pup in the litter and he is also the fuzziest!  He is very outgoing and lots of fun.  He is reserved for Kim and has been renamed, Winston.

Daisy is a gorgeous red girl who will be joining a guardian home and grow to be a mommy someday if she passes all her genetic and other health tests.  

Kristoff is a cute little red boy with cute little curls on his ears.  He is reserved for Elveen and Kartika.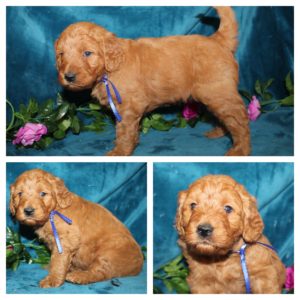 Mater is a funny, busy boy who will be a medium golden colored boy.  He is available to someone who gets top space on our new waiting list which opens on Saturday via email at 10 am.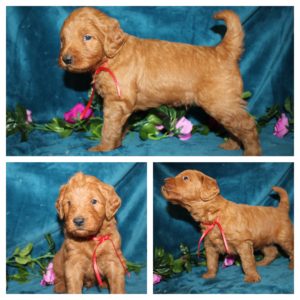 Nala is an apricot colored girl who will be going to live with Marty and become part of her breeding program in Loomis.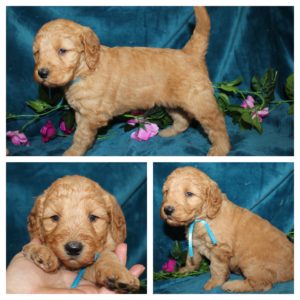 Olaf is an apricot boy who will have the least curly hair of the litter.  He is very gentle.  He is also reserved for Deanna's parents, Lynette and Rich.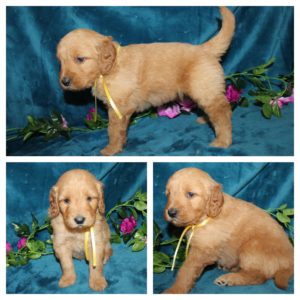 After the photo shoot: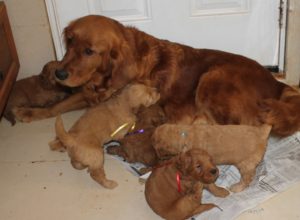 The puppies as newborns

The Parents:  Lilly and Bilbo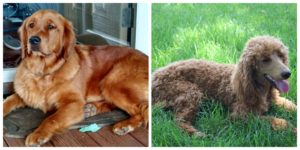 Past Puppies