Bailey and Bilbo-F1B mini and medium goldendoodles
Bailey and Bilbo had their first litter of 6 puppies born on New Year's Day.  She has 4 boys and 2 girls.  They range from apricot to red.  They will be medium sized pups and vary from 35-50 lbs.  The waiting list is closed.
Almost 6 weeks
Leo is a little people pleaser and so cute!  Fabiola's family will be whisking him off to Vacaville.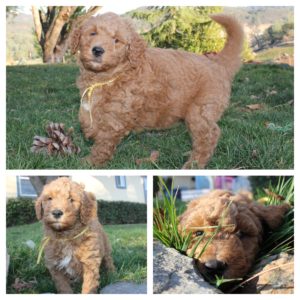 Oso is a sweet, curly, golden boy.  He is just right for Greg in Monterey.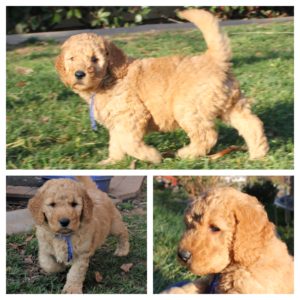 Ranger is a gentle, cuddly fluff-ball.  Scarlett's family cant wait to get him home in El Dorado Hills.

Taz is an active, inquisitive, in-charge little guy.  He is reserved for someone on our waiting list.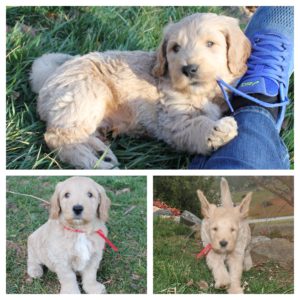 Topaz is a gentle, yet playful.  She will be cuddling with Helena's family in Folsom.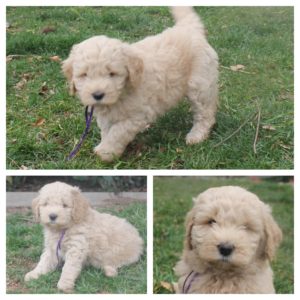 Winnie is a smart cookie and watches everything.   Heather and Anthony are getting Folsom prepared for her.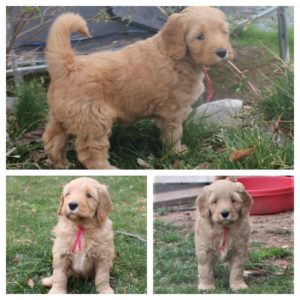 3 weeks
Marmalade is a very curly darker colored boy who already loves people!  He is reserved for Fabiola.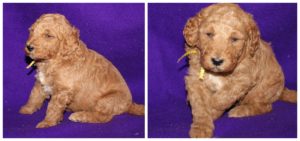 Marshmallow is a blonde, laid back sweet little girl.   She will have soft waves in her hair when she is older.   She is reserved for Anthony and Heather and will be called Winnie.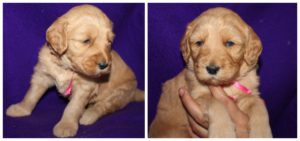 Oso is another darker boy who is also very curly.  He is reserved for Greg.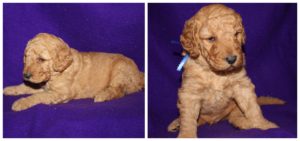 Ranger is a blonde boy with a wide head and white toes.  He's also a curly one.  He is reserved for Scarlett.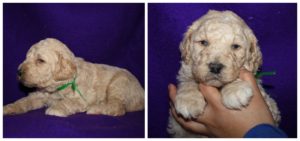 Taz is an active blonde boy who has definitely found his voice and demands attention.  He is reserved.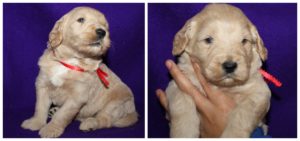 Topaz is a curly blonde girl with a very fat face.  She is reserved for Helena.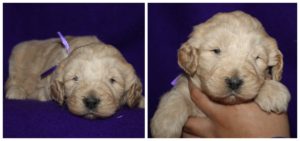 Newborn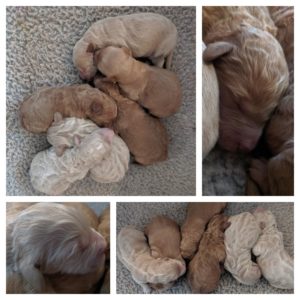 Bailey and Bilbo